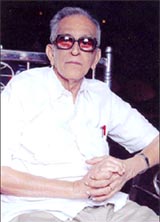 Mr. Vithal P. Vagal - Founder of M/S Modern Engravers


The Company "M/S MODERN ENGRAVERS" was established in the year 1951. The establishment of the company by Mr. Vithal Pandurang Vagal was itself an achievement, which began long before independence in the year 1938. It all started with buying an engraving machine which was set-up itself in a one-room (10x10 feet room) residence of Mr. Vithal in Girgaum, Mumbai. In-laws of Mr. Vithal helped their son-in-law, with their support and some of finances. It was a difficult task to stay and work in the same place sharing one single room amongst 9 family members. But those were the "days of joy" reckons Mr. Vithal. Due to his courage, strong will and determination Modern was the first company in Mumbai to have imported Deckel Engraving Machines from Germany. Since that moment there was no looking back and a small workshop expanded into a small scale industry under the name of M/S Modern Engravers.

We are proud to announce that we celebrated Diamond Jubilee Celebrations 1951-2011.

Mr. Vithal's confidence was further boosted when his son, Mr. Ranjan Vithal Vagal at the age of 16, Stepted into the same footsteps as his father. Modern Engravers has always been a one man show first by father (Mr. Vithal) and then by son (Mr. Ranjan). Mr Ranjan gave new boundaries to the company by opening two more sister concern M/S Ranjan Art Engravers and M/S G.S. Engineers and Engravers in 1972 & 1994 respectively. Both father and son had tremendous support from their wives Mrs. Vaijayanti Vagal and Mrs Rama Vagal respectively and other family members, and when it comes to business Unity boosts their Strength. Recently the company enpisaged the third generation family member 'Mr.Gautam Ranjan Vagal' and 'Mr. Saurabh Ranjan Vagal' joining the family business, by following his Grandfathers & Fathers Footsteps. Mr. Ranjan's success knew no limit when two Deckel CNC 3-axis & 4-axis Milling M/C were imported from Germany as an expansion to Modern. This proved to be a turning point in the history of Modern which was cherished both by the family and its employees. Keeping abreast with time both Mr. Vithal and Mr. Ranjan attended regular exhibition in England and Germany regarding engraving and engineering. Not only that Mr. Ranjan also had a couple of months specialized training in Germany, regarding machines and engraving.

Modern's investment in its employees itself is a history and an extension of Mr. Vagal's family. Modern is blessed to have such wonderful and loving employees, some of them who have worked with the company for more than 35 years. They have always been and will always be a strong asset to the company. The standing of the company today is also predominantly due to its valued customers, who have supported the company since its development. We, take this opportunity to thank all our valued customers for their support and trust in the company & also look forward to always fulfilling their demands.

This company is equipped with sophisticated engraving and CNC 3-axis & 4-axis milling machine with CAD/CAM system. Full use is made of CAD/CAM technology including Unigraphics Software and Spark Erosion Facilities and is one of the most advanced factories of its kind in Mumbai, India.

It's a Diamond Jubilee Period for the Company as it celebrated Diamond Jubilee in the year 2011. Our kind regards to everyone who has contributed towards the growth of the M/S Modern Engravers. Struggle and failure is a way to success which this company has envisaged during its growth. It is a dream come true after strenuous hard-work for both Mr Vithal, Mr. Ranjan, the family and their employees to have climbed the ladder of success confidently but steadily.