We are a highly engaged company as the service provider of the CNC Engraving Job Work and Pantograph Engraving, which is a labour rich Engraving. Both these engraving job work of our company are highly acclaimed in the industry as well as among our clients. Further, these engraving job works is executed by a team of well known experts who have years of experience in this field. These job works are highly acclaimed due to the high quality and efficiency.


We use a hardened steel tool called a burin, or graver, to cut the design into the surface. Gravers come in a variety of shapes and sizes that yield different line types.  V-point can be anywhere from 60 to 130 degrees, depending on purpose and effect. These gravers have very small cutting points. Tool geometry is extremely important for accuracy in hand engraving. When sharpened for most applications, a graver has a "face", which is the top of the graver, and a "heel", which is the bottom of the graver; not all tools or application require a heel. These two surfaces meet to form a point that cuts the metal. Sharpening a graver or burin requires either a sharpening stone or wheel. Harder carbide and steel gravers require diamond-grade sharpening wheels; these gravers can be polished to a mirror finish using a ceramic or cast iron lap, which is essential in creating bright cuts.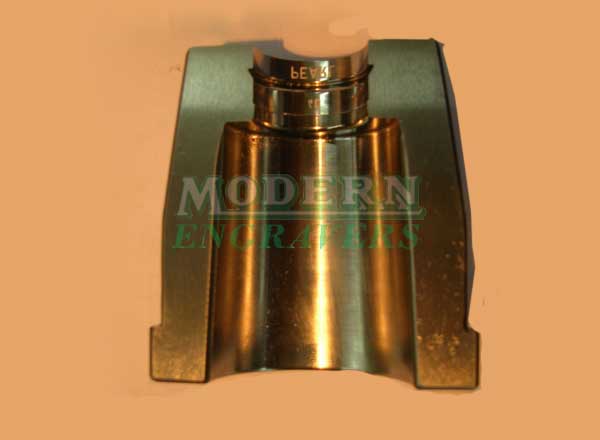 The tools which are used for engraving are manufactured in-house so the degree of engraving, the tip etc is all taken care by specialist. The complete job is manufactured in-house with our skilled workers using traditional and modern machinery techniques. Some of the best known features of our engraving job work which is carried on CNC and Pantograph machines are as follows.

Features:
• Top class quality
• Total solution
• Fine finishing
• Excellent visibility
• Dimensional accuracy
• Sturdy construction
• Planned and executed under the supervision of our trained staff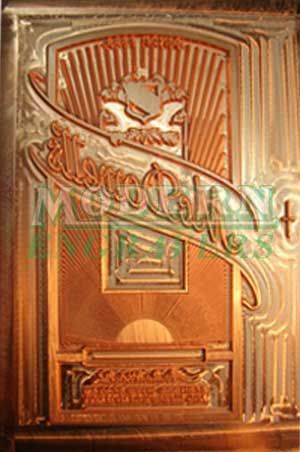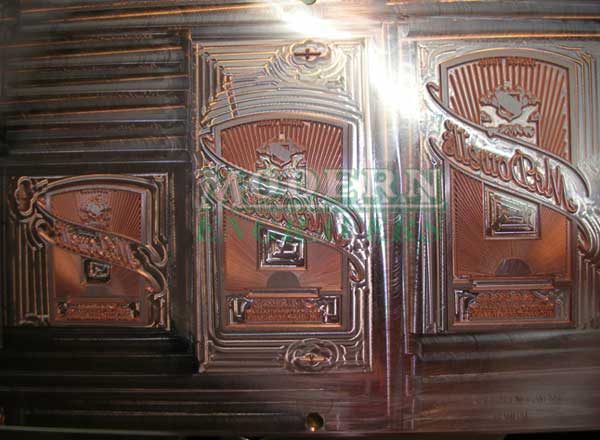 Hot Foil Engraving Dies
We are supplying a range of Hot Foil Stamping Dies  to our clients which are used in various industry, like packaging, labeling etc. Our hot foil blocking dies are all produced in-house by a vastly skilled team that has perfected the art of die making. In addition to that our modern equipment helps us create high quality and bespoke designs We produce hot foil stamping dies from copper or brass.

Copper Hot Foil Blocking Dies
Our copper dies are ideal for highly detailed and intricate hot foiling jobs, as well as in the production of security dies. In fact, copper holds many benefits over other die metals including its durability and registration consistency.

Brass Hot Foil Blocking Dies
Our brass dies are ideal for hot foiling jobs that require sharp, straight shoulders and high clarity due to its hardness. It is the perfect metal type for flat foiling, reversal dies and other stamping applications.

Features :
• Brass dies gives a sharp, high definition finish after foil transfer
• Brass can be deep machined to 3mm for use on softer substrates
• Great at retaining heat
• We use no chemicals during the making of a CNC brass die
• More cost-effective than copper
• Greater detail is achievable with Brass
• Copper dies are very durable
• Ideal for close up, intricate detail (much more so than other metals)
• Excellent for foiling small font type
• More consistent register precision due to its greater heat retention


Engraving Dies
We specialize in Engraving dies for Blow Mould in Plastic Industry, pharmaceutical dies, Capsules, Die inserts and other wide application where engraving plays a major role. Engraving dies depending on the customers are very specific. The material used for the same is Aluminium, Brass, SS, Copper. Engraving is again done with traditional method using pantograph. This is a skilled labour job which is carried out by our skilled labour having more than 40 years experience. Also to keep abreast with the time we also make use of CNC machine for engraving.


Features :
• Tool grinding is done in-house
• Provides excellent tool geometry
• Combination of hand engraving and CNC engraving
• Excellent Finish
• Engraving die for capsules
• Engraving dies for Blow moulds
• Dimensional Accuracy and Precision

Send Enquiry